Vehicle Asset Appraisal Service for Divorce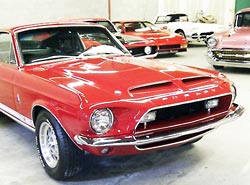 Maurice Bramhall & Associates provides a professional and discreet car appraisal service for distribution of property in a divorce.
During a time of family difficulty and stress, determining how to divide assets can be a challenging issue.
In the divorce process, it is in all parties' interest to appraise mutually owned assets (cars, boats and other vehicles) in a straightforward manner. Dividing your vehicular property in a divorce and working towards a settlement agreement requires a reliable third party valuation.
Disputes over value at a time like this are normal. Our asset appraisal reports — with their precise market-based, researched values — help to take the heat out of the process. You need the vehicle value for your separation agreement, on this date and the date of your marriage/common law agreement.
No job is too large or too small and our fees are competitive. We appraise a wide range of cars, trucks, custom bikes, classic cars, commercial vehicles, boats and other property (such as tools).
Please call us during this difficult time to have the appraisal for separation of assets handled professionally and with care. Your inquiries are most welcome. Contact us to discuss your requirements.
Appraisal Services
We take all the complexity out of valuing your vehicles; cars, bikes, trucks and boats at past and present dates. We have an extensive in-house library of past valuation sources plus we have access to independent sources where reference material can be purchased for very reasonable fees.
You simply call us with a basic description of the vehicles involved, at this point we can normally quote you a cost for our service. You then email us a list of vehicles with their VIN numbers, mileage details etc and the dates on which you want them valued. If outside sources of reference material are required for your project we get back to you with the costs involved. We then put together a written report along with copies of the reference material in the form of a .pdf file which you can pass onto your lawyer.
Our service has a fast turnaround time, normally 3-4 bus days. We know that you will find our fees very reasonable.
Appraisal Report Formats
Our reports take one of two forms:
1. A simple one page form that lists the year, make and model of the car/boat, mileage and simple condition description. An asset value based on this information is given from an Industry / Government recognized Price Guide.
2. A multi-page appraisal document that gives the description of the vehicle / boat and its identifying serial number. Photographs and a written description of the vehicle / asset property in question confirm its overall condition. We then research the current value in the market and in Government acknowledged Price Guides. This value is supported with copies of our research results and of the Price Guides involved.
Valuation reports are based on the current market value of the asset in question. We also provide reports that indicate asset values at the time of marriage and separation.
We suggest that you discuss with your legal advisor which appraisal report format is adequate for your purpose.
The complexity of the report required is determined with our clients at the outset. We co-operate with your lawyer as and when required.
We are also available for divorce court appearance as a witness, and we have been certified as an "Expert Witness" in many divorce cases in Ontario.
Our Resources
We subscribe to several online industry (trade) price guides, they include The Canadian Red Book, The Canadian Black Book, the Canadian Motorcycle Blue Book (includes ATV and Personal Watercraft) Dealer's Valuation Guide, the Ferrari Market Newsletter. These price guides offer valuation for today and dates in the past.