Your Vehicle Value – Professionally Appraised
There are many reasons to get an accurate vehicle value:
You may be selling it to a relative and you want to be fair to them and to you.
The vehicle value could be important to the settlement of the estate that you are a trustee of.
You need the vehicle value for your separation agreement, on this date and the date of your marriage/common law agreement.
Your vehicle value could be a factor in your new employment agreement, you are selling it as you are receiving a company vehicle, your new employer is compensating you for your loss.
You are moving out of the country to a new appointment, your vehicle value is a factor in your losses due to fulfilling your new job.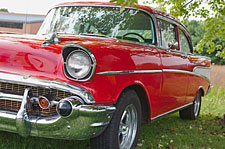 All these reasons and many more call for a professional vehicle valuation by our company. Each report is supported by current and past market value information. We are qualified as "Expert Witness" for any court appearances you may call on us for.
Maurice Bramhall & Associates have been producing professional vehicle values for 20 years to people all around the Toronto area.

We are professional, prompt, and knowledgeable vehicle appraisers (and car enthusiasts) who are happy to visit your vehicle, inspect it and promptly produce your vehicle value report (car appraisal). Get in touch now to book your professional, certified vehicle value appraisal.