Motorcycle Appraisals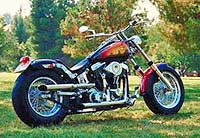 Maurice Bramhall & Associates offer professional motorcycle appraisals and professional appraisal reports for a reasonable price.
What kind of motorcycle appraisal do you need?
A vintage motorcycle appraisal or a custom bike appraisal?

APPRAISER's NOTE: Our appraisal report consists of a document that describes the origin of the bike, its serial number and manufacturer along with the power train particulars. The engine and gear box serial numbers (where available) is reported as well.

In our field notes, we list all the primary features of the bike including: custom power train setup, wheels, suspension, chrome trim, seating details and lighting components. All these features are brought together in a written description of the major facets of the bike with the headings of "Soft Trim", "Body and Frame", "Mechanical", "Glass", and a paragraph explaining the valuation of the bike and comparative examples if appropriate.