Estate Appraisal for Cars & Vehicles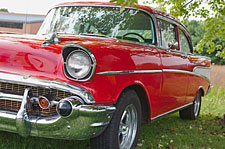 When appraising the market value of a vehicle, a professional appraisal is needed to determine the true value.
In the case of an estate appraisal it is important to work with an experienced, professional estate appraiser who takes the time to correctly value your vehicle.
Maurice Bramhall & Associates are trusted estate appraisers and have been appraising classic cars professionally in Ontario since 1991. We provide well documented professional appraisal reports that are quite thorough and accurate after inspecting the auto at your location. We produce an appraisal as required for your estate disposal needs and are considered trusted estate appraisers in the industry.

Contact us to discuss your appraisal needs. With a quick phone call we can determine your estate appraisal requirements and provide peace of mind.
Will Executors
Are you a Will Executor? Please see this very important information for executors and families regarding cars and other vehicles within an estate.
Car appraisals performed by Maurice Bramhall & Associates' certified car appraisers can also help family members determine a fair market value in order to divide inherited property or offer it for sale.
Are you a professional (lawyer, financial advisor, etc.) involved in advising will executors? View the professional resume of Maurice Bramhall & Associates for our direct experience in the area of estate appraisals for vehicles.