Classic Car Appraisals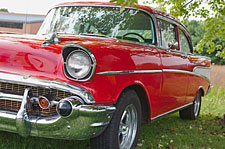 Why get a professional classic car appraisal? The value of modern vehicles is much more predictable because up to date information on value is easily available. Classic automobiles are a different story. Getting to the appropriate fair value of a classic car is a much more involved process requiring expertise acquired through years of professional experience (as well as being a classic auto enthusiast!). Remember, a vehicle is considered a "classic" if it was manufactured 20 or more years ago.
Maurice Bramhall & Associates have been appraising vintage cars professionally since 1991. We provide thorough and well documented appraisal reports after inspecting your classic auto on site. We carefully review all aspects of the vehicle and produce an Insurance Industry approved printed report in colour.

Contact us to arrange for your professional classic car appraisal.
Looking for Classic Truck appraisals or Street Rod appraisals?