Commercial Truck & Trailer Appraisals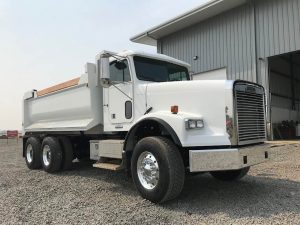 Maurice Bramhall & Associates offer professional commercial truck appraisals. We provide a thorough and well-documented appraisal report after inspecting your truck (or fleet) on-site. We look closely at all aspects of the vehicle and produce an Insurance Industry approved report. Here are some examples of the sort of work we do.
Financial
A large company with a fleet of trucks and trailers decide to get out of the trucking business and sublet the job to an existing operator. The new operator is going to take the existing fleet into its inventory as part of the deal. The company wants to know that it is being paid a fair market price for its fleet.
An owner of a small fleet of custom built trailers and a food truck are changing their insurer. The equipment varies in age from new to 40 yrs old. The new insurance company demands an appraisal to set a base line on the value of the equipment.
Dispute
An owner operator loses his highway tractor in an accident. The fleet operator is self insured for up to $125,000.00 per incident. The fleet operator engages a collision appraiser to estimate damage and set a value for the lost unit. The appraiser set a value based on an auction type vehicle which in no way would be capable of passing all the stringent requirements of the lost unit. The owner operator engaged us to set a realistic value.
Is one of your contract drivers or your company in a dispute with an insurance company over the value of a written off truck, we can provide that essential second opinion on which an equitable settlement can be made.
Other Commercial Truck Appraisal Purposes
Moving your "in house" truck and trailer fleet to an outside provider? Make sure you are getting full value for your equipment.
Retiring, passing on your business to the next generation. Value your fleet of equipment to keep all parties on an even keel.
Buying a new business or expanding yours? Have the fleet you are buying appraised for value and accounting purposes.
Commercial Truck Appraisals
We offer truck appraisals for:
Semi-trailer truck
Transport Trucks
Commercial Vans
18 Wheelers
Commercial Pick-up Trucks
Articulating Trucks
Bob Tails
Bottom Dumps
Box Vans
Cement Trucks
Day Cabs
Dollys
Dump Trucks
End Dumps
Equipment Trailers
Fleet Vehicles
Long Haul Condo Rigs
Off-Road
Refrigerated Trailers
Roll-Offs
Side Dumps
Tow Trucks
Transfer Sets
Utility Trucks
Water Trucks
Working Show Trucks
Yard Trucks

Contact us to arrange for your professional commercial truck appraisal.