Modified & Street Rods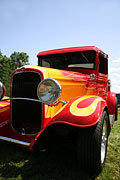 We offer a professional appraisal service for the valuation and appraisal of Street Rods, Custom Cars and Trucks.
Our report is comprehensive and complies with the requirements of all insurance companies. We guarantee that our report will be accepted by the insurance company of your choice!
We offer:
car, truck and motorbike valuations (stock or custom) for insurance purposes
second opinion reports where the insured is disputing a "written off" vehicle valuation
provincial sales tax valuation report for when a vehicle is being registered
reports on value for purposes of dispute settlements, estates, and commercial purposes
valuation reports for purposes of dividing assets in a divorce
Why have your Custom Vehicle appraised?
Inform your insurer of the nature and quality of the modifications.
Indicate a realistic current-market value or a replacement cost report.
Document through photographs.
Indicate modifications to body style and structure, mechanical changes, custom interior, and stereo installs.
In essence, a vehicle is valued on the following factors:
The quality of its overall condition and the workmanship
Is it a rare car that has enhanced market value because it is rare
If it is rare and desirable is there documentation to support its originality (sometimes referred to as provenance)
Market value, is it desirable? Are there buyers? (whether a small or large group)

Contact us to arrange for your professional street rod or modified car appraisal.
Custom Car Insurance Tip
When discussing the insurance of your custom vehicle with your agent or insurance company, we suggest that you be clear that the type of policy and coverage is appropriate to your needs. The difference between a 19A and any other policy can be significant in the event of a loss.
A professionally prepared and presented appraisal or valuation report indicates to your insurance company the condition and current market value of your vehicle. This is a foundation for the settlement of any future dispute involving your vehicle. It also clearly sets a value in the case of a total loss.