Records for an Insurance Dispute
Insurance Dispute Tip #1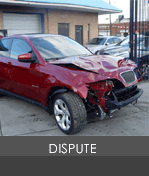 When you're in an insurance dispute, all the records that you have accumulated over the years become very valuable. This is especially true if your vehicle is stolen or heavily damaged. All these documents help paint a picture of your vehicle. They also track mileage travelled. If you have a vehicle that has been imported from the U.S., the CarFax document will indicate a mileage change that appears illogical, but is normally due to the conversion from miles to kilometres.
Insurance Dispute Tip #2
At the beginning of an insurance dispute process, I always recommend that you request from your insurance company a copy of the report by which the insurance company has calculated its market value. This report contains a tremendous amount of information and it's important that it truly reflects your vehicle, its options, its mileage, and condition.