Do I Need a Car Appraisal?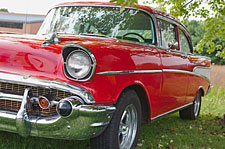 Does my car require an appraisal?
A car is considered to be classic if it is 20 years or older. To be insured, the vehicle requires a car appraisal. The car appraisal needs to be completed by an appraiser who is qualified to produce insurance industry approved appraisals.
Maurice Bramhall & Associates have been producing certified car appraisals for the Insurance Industry since 1991. We offer reasonably priced car appraisals and are committed to helping you get the true professional appraised value of your vehicle by producing an appraisal report that will be accepted by your classic car insurance provider.

We are professional and knowledgeable classic vehicle enthusiasts who  come to your vehicle's location, inspect it and produce your full colour car appraisal report promptly. Get in touch now to book your certified car appraisal in Southern Ontario.